UCL students Haleemah-Sadiah Afolabi, Elizabeth Kay, Eve Lunn, Tiffany Mihardja, Olivia Rix, and Erin Smith report back on research completed for Dr Sonja Ayeb Karlsson's Humanitarian Policy module.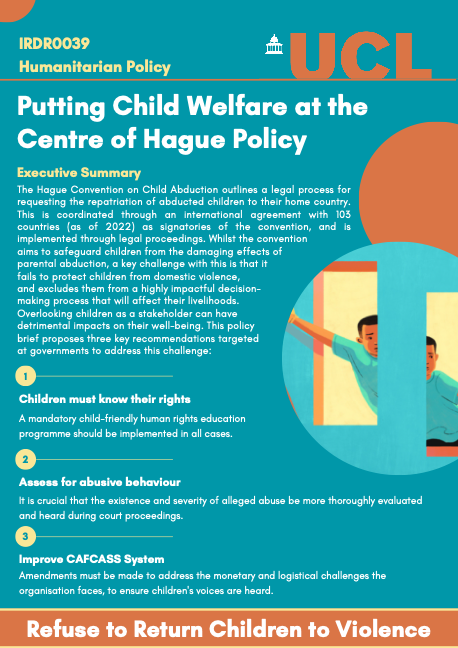 As second-year students reading Global Humanitarian Studies (BSc) at University College London, we had the opportunity to produce a policy brief related to children, violence, and the Hague Convention. This was a fantastic chance for us to deepen our understanding of children's rights in policy-making, an incredibly important area of study that is often overlooked. We were concerned to find that some policies purporting to protect children's rights were actually causing more harm than good, particularly in the context of the 1980 Hague Abduction Convention.
Our aim was to suggest improvements in the application of the Convention in order to humanise the process and place child welfare at the centre. We frequently turned to the official HCCH website for our research, a reputable source that provided an extensive analysis of Hague cases made in 2015, funded by the International Centre for Missing and Exploited Children. It was the most complete and up-to-date study available, and given the legal nature of the topic, this information wasn't widely accessible.
During our research, we were shocked by both the depth and extent of the harm inflicted by various applications of the Hague Convention. It was deeply upsetting to discover that the Convention had failed to protect children from domestic violence in so many cases; there is a tragic irony in the fact that a framework designed to uphold human rights is often responsible for their violation. It was equally surprising to find that in a context claiming to regard the child's welfare as the most important factor in the decision-making process, their rights and opinions were overlooked and marginalised due to claims of immaturity, with the modal age of children involved in such cases being six years old.
The outcomes of annual cases were also problematic, with only 27% of applications ending in a judicial refusal by the Central Authorities. Consequently, the vast majority of cases ended with the return of the child to a potentially unsafe environment, given that the global prevalence of domestic abuse is much greater than 27%, and should be reflected in cases accordingly.
Our policy brief proposed three key recommendations.
1. Ensure that children know their rights.
According to the Hague Convention, the child's objection is only considered when they have 'attained an age and degree of maturity at which it is appropriate to take account of their views.' This excludes younger children and forces the most vulnerable to suffer in silence. Our recommendation to rectify this issue was to increase the child's perceived level of 'maturity' when it comes to understanding their rights. The best way to do this is by implementing a mandatory human rights education programme for all children involved in relevant cases. This programme should be conducted with an assigned social worker, and modelled on pre-existing activity packs created by Amnesty International.
2. Ensure a more extensive investigation into coercive and controlling behaviour.
During our research, it became clear how instrumental judges were to the process – ultimately, the decision lies with them. One article, in particular, stood out, arguing for the ways in which judges can apply the Hague Convention to protect victims of domestic violence. It stated that standards for reaching Article 13b are only met by 'the most severe' cases of violence. As a result, judges may feel torn – recognising that it is dangerous for the child to be returned, even though the law may not support this outcome. Our response was to question how a 'grave risk' can be evidenced without a sufficiently robust investigation into both the frequency and severity of the alleged domestic violence.
3. improve the Children & Family Court Advisory Service (Cafcass).
This is an integral part of a child's support network in the United Kingdom, yet it often fails in its mission to protect children from violence and ensure their voices are heard. Crucially, the importance of Cafcass lies in the fact that it is frequently the first point of contact for families experiencing domestic abuse. Given that the Hague process may take a long period of time, it is important that there is a robust and efficient support system available to protect the child during this process, one that cannot be said to exist currently, due to chronic underfunding and staff shortages.
The Hague Convention establishes some effective infrastructure to help protect children from parental abduction. Yet, as it currently stands, the policy fails to place sufficient emphasis on the rights and autonomy of the very figure it purports to protect – the child. As a result, human rights are violated and families torn apart. Those with the power to correct this can and should do everything possible to embolden the voices of children through improved education, monitoring and support services.
We are hopeful that our small contribution will be part of a movement towards a legal system that truly protects children, rather than just claiming to do so. This cannot be done without children's contribution to the discussions. In a system overwhelmed by noise, perhaps we should look to the littlest voices to guide us to a place of greater humanity and compassion.
Read the Full Brief:
____
Our brief has been submitted to the UN Special Rapporteur's inquiry into violence against women and children in custody cases, at the Office of the High Commissioner for Human Rights (UN OHCHR 2022). We are excited to see what comes out of this report and hope to see a change to the cruel injustices that are currently taking place in the name of the Hague Convention.